My Levantine-Latin Abuelita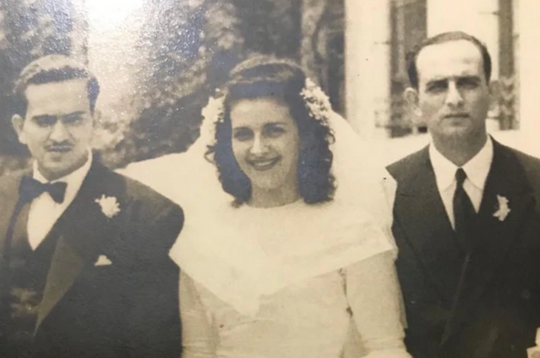 Abuelita was for me, an enigma... a quiet image of class, fashion and beauty. I still marvel at her straight nose and antique elegance-- not to mention her collection of delicate, well-traveled Lladro figurines that somehow made their way from Europe to her curvy, mid-century modern living room in tropical San Salvador. She and my grandpa, Papa Oscar were children of immigrants from Palestine who arrived in El Salvador in the early 1900's. Both families were traders who came from well-to-do Bethlehemite families and who saw opportunity and economic freedom in the new world.
My grandmother's father always imagined a return home to Bethlehem and on several occasions, he made the long-journey across the sea to reconnect and maintain both business and family ties in Palestine. But as his wife and eight children became rooted in the Latin lifestyle and saw the rewards of diligent work, they came to make the tiny tropical nation in Central America their home.
Nevertheless, they celebrated their traditions with pride and integrated well with their community of origin and with local people. This intertwining of two disparate cultures and traditions produced a diverse yet cohesive mix of flavors at my Abuelita's table.
She created the most delectable bounty for her children and grandchildren that transcended both her old and new worlds. Each summer, on the plane ride down to El Salvador from LA, I'd dream of Abuelita's Julie's Salpicon-- that typically Salvadorean limey chopped beef dish accompanied by Arabic Rice buttery arroz arabe and citrusy taboule. Even before landing, I knew this magical bicultural combination, seasoned to perfection at my grandmother's hands, awaited us along with our aunts, uncles and cousins at Abuelita Julie's grand welcoming table. For much of my youth, this is the meal that would kick off a summer of fun in precious, beautiful yet war- torn El Salvador. It would end with my grandmother's son-in-laws' approval of the combination with a resounding... Salem-e dekee, Mart-Ami. Or God bless your hands, mother-in-law! Followed by Abuelita's obsequious ... Gracias.
Memories of the summers of my youth orbit much around family gatherings over incredible food, loud -low hovering helicopters, curfewed evenings in candle-lit quarters with chocolate sprinkle donuts, volcanic crater lake adventures, sultry afternoons crashing into foamy ocean waves and the freshest mariscadas and ceviches of all time. Different but not unlike the summer my kids spent in North Lebanon in 2020. For that story, click here.